This was written in 1990. Somethings have changed, some things have not. I thought because a nice weekend is predicted that I would publish this old 1990 tourist blog.
Today's drive takes you to four small villages founded at the turn of the century: Plum Hollow, Athens, Delta and Forfar. About a 90-minute drive south of Ottawa, you can purchase locally-made cheeses and candy, discover the history of the area through the Delta Mill Museum and admire the murals of Athens.
First stop is Plum Hollow, where Blackland's Country Candy factory is situated in a century-old building that used to house the Plum Hollow Cheese Factory. It's open from 9 a.m. to 5 p.m. today and while you can still purchase locally-made cheese there, you will also find a tempting assortment of fudge, hard candies, jams and jellies and elegant filled chocolates. Colored wicker baskets and flower-printed boxes can be made into a gift hamper, filled with items from the shop. Choose your favorite of 16 flavors of hard ice-cream.
The Plum Hollow Witch 101 – Mother Barnes
To get to Plum Hollow, take Hwy. 7 southwest. At Carleton Place, join up with Hwy. 15 which heads south through Smiths Falls. Connect with Hwy. 29 as you leave Smiths Falls and drive 36 kilometres south to Toledo. Veer to the ET3 right down Road 8, and turn left down Road 5 after Bellamy's Mills. Another eight km will take you to Plum Hollow.
The village of Athens, farther south, has become famous in recent years for its historical murals painted on the sides of shops. Scenes take you back to a summer band concert and a picnic at the turn of the century and the working life of the community. Look for the likeness of "Duke," the resident German shepherd, at the bottom corner of the lumber mill scene on the H & R feed store.
To get to Athens from Plum Hollow, drive south down Road 5 for eight km. Park on the main street and wander the sidewalks to view the murals. Before you continue your trip, take a few minutes to walk along the side streets of Athens. There are many beautifully kept old buildings, some of which are represented in the murals. Head south to Church Street and wander through the cemetery. Many of the moss-encrusted stones date back to the early 1800s and provide a glimpse into the hardships and events that ruled the lives of the people of the area.
House of Industry Athens Farmersville
Monument erected to honour 400 buried in unmarked grave
Farmersville 1859 County Directory (Athens)
Head north from Main at the Pro Hardware store. Next stop is the village of Delta, one of the earliest settlements in the township. From Athens, take Hwy. 42 west for 15 km. Delta is home to the oldest mill in Ontario, a beautifully preserved grist mill that's the subject of many Keirsted paintings.
In the early 1800s this mill was thought to be the best building of its kind in Upper Canada and today the Delta Mill Society is working to restore the building to working order. You can visit the mill for free between 10 and 5; displays of equipment in the ground-floor museum depict the history and operations of the mill and its patrons. You can purchase note-card photographs of the building at the gift counter. Now continue on to Forfar, 10 km west along Hwy. 42.
No Drinking in Delta! Did You Know this About Delta?
The Forfar Dairy (open today from 9 a.m. to 8 p.m.) is on the left as the highway veers west through the village. Here you can purchase Cheddar, which is aged up to four years, as well as whey, cream and various butters. The shop also sells flavored teas and mustards, cloth bags of dressing and muffin mixes as well as hard candy and honey. Next door, the Forfar Dairy gift shop is open from 10 until 5.
If you're ready for a meal, continue about 10 km west along Hwy. 42 to the village of Newboro and the Stagecoach Restaurant. It serves brunch from 11 until 2 and is open for other meals until 9 p.m. You can return home through the scenic village of Westport, then up County Road 10 to Perth, or retrace Newboro Dennis Leung, Citizen your route back to Hwy. 15. Many readers have given us tips about this lovely area.
For a current up to date tourist information click below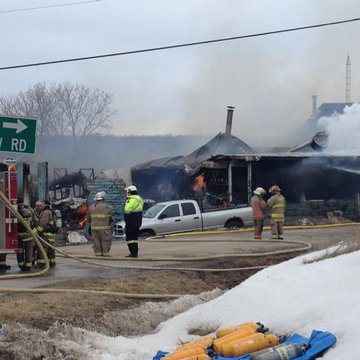 They actually hadn't produced any cheese there since the early '80s, probably strong armed out of business along with other small producers by the likes of Kraft or Parmalat, an interesting story in itself.
Since then it functioned as a candy shop, and an antique shop but that's the limit of my memory. The loss is a historical one for the area, one less monument to a time when a small producer could thrive along with the surrounding farms, etc.
It was a very picturesque factory located on a hill. Approaching eastbound on the road it pops into view across a golden meadow, approaching westbound it springs into view at a sharp curve in the road, the golden meadow stretching out behind it.
Plum Hollow