The Ottawa Journal
Ottawa, Ontario, Canada
15 Nov 1921, Tue  •  Page 19
While aboriginal slaves cost 400 livres, black slaves cost over double
that amount – 900 livres. Advertisements in The Montreal Gazette began as small text notices in the classified section of the paper, much as they are today.
Between 1628-1833 they were close to 5000 slaves within the province, many of whom lived in Quebec City and worked in the homes of the founding wealthy French families. It is mostly assumed that Canada was a haven for slaves, which it was in the last two hundred years of slavery but before this slavery was legal and scores of Blacks and Natives were enslaved here.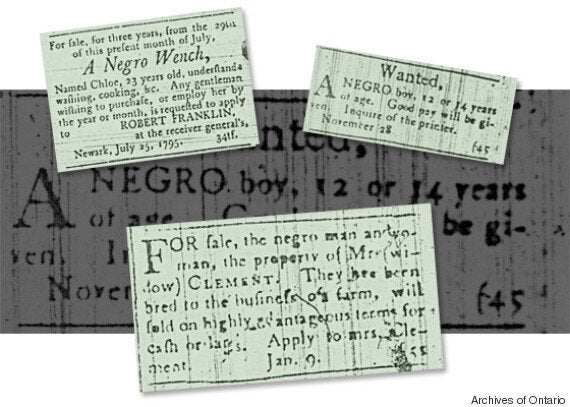 Slavery buy and sell ads from the Upper Canada Gazette and Niagara Herald (Archives of Ontario)  
A for sale ad for "A Young healthy Negro Woman between 12 and 13 years of age, lately from Upper Canada, where she was brought up."
An April 2nd 1789 ad for "A stout healthy negro man, about 28 years of age, is an excellent cook."
And a reprinting of the same ad in the next week's paper with "very fit for working on a Farm" added to it.
This ad was placed March 21, 1793 by a Mr. McMurray, selling a 25 year old female slave.
An ad, placed the same year, for a "Mulatto boy", right next to notices for a horse saddle and a coffee house that were also for sale.
The Gazette also posted "missing" ads for slaves who had escaped, which required His Majesty's subjects to "use their utmost diligence in apprehending the said criminal and lodge him in any of the jails of this Province."
Here, William Spencer is being charged with petty larceny, aka theft of someone's personal property, because technically by running away he was stealing his owner's property – his own body.
Another runaway ad, forbidding all persons from "harbouring or aiding him to escape, as they may depend on being prosecuted to the utmost right of the law", printed in May 1781.
A missing notice offering a twenty dollar reward for a Mulatto apprentice's return.
Another missing ad, listing an escaped slave with other run-away criminals, lumping him in with a man that was charged with murder.
Source – Tamara Extian-Babiuk
The Gazette
Montreal, Quebec, Quebec, Canada
23 Oct 1888, Tue  •  Page 7