Based on true thoughts of the song by Romeo Void and Aidan Quinn
I grew up on television as a child. Shows like Donna Reed and Father's Knows Best promoted "the high school prom" as a magical thing that was special. I remember they always said: "it will only happen once, and then it's gone forever and you'll never have it back".
Well, let's face it I hated high school and just wanted to graduate and be done. I wasn't a scholar unless it was literature, history or art, and I knew from a very young age I wanted to become a fashion designer. Being a mathematician wasn't my calling and even getting honours in other subjects I was held back a year because of math– and that kind of put a small tear in the crinoline as they say.
As far back as I can recall every May, all the school classes were brought to the Cowansville High School gym to see how the graduating class had decorated for the annual dance. It was always the most beautiful use of crepe paper that we students had ever seen and I always went home and designed what I imagined I would wear to that particular dance.
The first dress I ever designed for my imaginary prom was a burgundy lace dress I had seen in the Simpson's Sears catalogue. It had a high ruffled neck, empire waist, and a very romantic look. I did end up wearing it to a Christmas dance but by the time I finished the dress, it looked nothing like the one in the catalogue. My dad said I had better invest in a girdle because it was so tight.
A year later the graduating class's theme was "Under the Sea" and my creation was a peach, yes peach, crepe, yes crepe, angel dress. It had a very gathered bodice and flowing cathedral sleeves. The dress turned out alright but somehow I got the length really wrong. It barely covered my derriere and I only wore it in the house and never did that dress grace the outside nor see a dance floor.
I created many dresses for my imaginary prom events, even wearing out my Mystery Date Game in the 60s. Mystery Date was very popular during my teens with the ultimate goal of collecting outfits around the board to get that perfect outfit for your dream date for the prom. I didn't win that often even though I had a full outfit, but the boy waiting behind the door never seemed to be a match.
By 1999 I still had not gone to a prom and because I seemed to dress every day in things that I had designed I had let the notion go of ever going to one. It was only a dance after all– even though 1950s and 1960s TV had tried to convince me otherwise, and let's face it I was now 48.
Living in Oakland, California my now husband and I went most weekends to 924 Gilman in West Berkeley. "The Gilman" is now a landmark mostly associated with being the springboard for the '90s punk revival led by bands like Green Day, Operation Ivy, and other popular punk bands. Our passion has always been music and Steve moonlighted as a DJ for KALX and was a music reviewer. One week they decided to have a Punk Prom and I was so excited that I would be finally going to a prom with a date. What would I wear?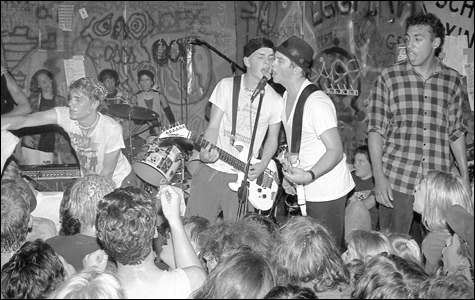 By now I knew it wasn't about the dress so I could follow any theme as there wasn't one– and, when did I ever follow a theme? Instead of going for a traditional look I opted for a white bustier, a fairy skirt, white fishnets, my big black Doc Martens and a cone of hair on either side of my head.
I am sitting here now at age 69 years of age wondering after all those years why I ended up choosing to look like Punk Rock Heidi? Well, my prom outfit is not your prom outfit and after all, it could have been worse– it could have been a dress needing a girdle or something that would flash your moonpies.

But, I did get my slow dance with my Prince Charming and maybe that's all I ever wanted. In reality everybody makes the graduation dance out like it's some big 'rite of passage to adulthood' or something. It's not. It's just another dance, and if you can't be the prom queen it's okay to be the dancing queen which I loved to be in those days. After all if you remember your fairy tales Cinderella never asked for a prince– she just asked for a night off, a nice dress and a prince.
This is my favourite grad clip
We saw the Dropkick Murphys at 924 Gilman in 1999