Tara-dawn Taylor The last time this bell rang out was during the anniversary of 100 years of the end of the war, it rang out 100 times along with a few other bells in town. read As Time Goes By — The Old Post Office Clock
Jo-Anne Dowdall-BrownMy Dad always told me he would know if I did something wrong before I would get home! True words!
Joann VoyceBack in the 1950's that bell chiming at 11 pm was our curfew. I could make it from most places in town to my home by the time it had rung 11 times
Sherene Baird Flint—I grew up in Carleton Place,Ontario during a time when everyone treated each other like family (we never got away with ANYTHING, and I mean NOTHING!!!) that is because everyone knew whose child I belonged to!!
We went outside to play, got dirty and we didn't eat fast food (it was a treat). We ate Bologna or jam sandwiches, raw hot dogs and cooked homemade food. We ate penny candy, yes, I said, "penny", and fake candy cigarettes, black cat gum.
On weekends we would go for a drive and drop in to visit someone (no planning a week in advance). If they weren't home, we would drive a little farther.We played kick the can, Red Light Green Light, Hide & Seek, Truth or Dare, Red Rover, What Time Is It Mr. Wolf, Tag, Dodge ball, Baseball, jump rope, and road hockey.
We rode bikes and raced against each other.We cried if we couldn't go outside and play. There was no bottled water, we drank from the faucet and the garden hose (don't forget to let that water run for a minute because it was hot when you just first turned it on!).
We watched cartoons on Saturday morning (everyone looked forward to Saturday morning cartoons! Especially bugs bunny, our parents loved it because they were able to sleep in knowing we were occupied). We watched hockey, comedy movies and played cards or board games.
We played in the woods, built forts, and rode our bikes for hours WITHOUT a cell phone. When you fell you wiped off the dirt and blood and kept on going. If you wanted to talk to your friends, you had to go to their houses and find them.
We weren't AFRAID OF ANYTHING. Our parents knew that when the street lights came on we were on our way home. If someone had a fight, that's what it was…a fight.
Kids DIDN'T HAVE ACCESS TO GUNS when I grew up. Dusk was our curfew. School was mandatory, and we watched our mouths around our elders because ALL your neighbours knew your parents, so we knew if we didn't, we were in big trouble when we got home.I really miss those days. We were taught to be respectful and we didn't give our parents a hard time. We had a respectful fear of our parents, teachers, AND THE LAW!
We were taught to work hard for what we wanted.Life is short, very short…..be humble and kind and respectful.Re-post if you're proud that you came from a close-knit community and will never forget where you came from!
Ted HurdisYes to all of the above. Nestle quick and toast with peanut butter and jam to watch the cartoons. Gum out of the hockey card packs. Some things are better gone like " ****** babies " candy. Imagine asking for that on a candy store today !! Wow.. Coffee Talk– Coolidge's Penny Candy and Rochester Street– For Tom Edwards
Alana Flint Great description Sherene! I remember and did all of that! We used to bike to the park with our 25 cents to spend at the shack…a hot dog, drink (in a glass bottle) and a chocolate bar. We'd spend the day swimming and get sunburned (no sunscreen). Rossy Doyle would be at the park in the afternoon with games and puzzles for us to use. I had many skinned knees from the Twirlers. Good times!
Dale CostelloDid all that and even had a paper route too. Played street hockey under the street lights on Rochester Street. Had a BB gun, but hit a neighbor kid and got into trouble. Didn't like him anyway.
Ray PaquetteIn the midst of the COVID-19 pandemic, I am reminded of a similar fear we had as kids growing up-polio. The similarities with COVID 19 are striking: until Dr Salk and his vaccine it was constantly on our minds, particularly in the summer. We all took precautions based on the latest public health warnings but as with COVID 19, we were able to get through it…
Ted HurdisRay Paquette no swimming in the river before the 24th of may weekend. You could get polio.
read Remember Polio?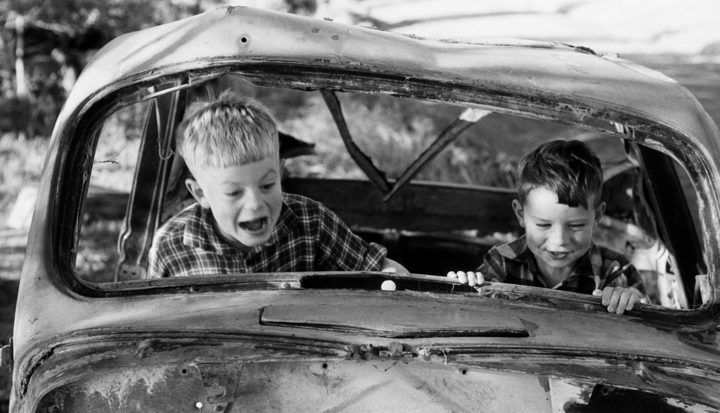 Ray PaquetteTed Hurdis We south end boys would get an early start on the swimming season by swimming in Dibblee's Quarry ( Mahogany Spa) at the end of Napoleon Street…
Dan Williams Can you remember going out to Dibblee's quarry to get an early start on the swimming season? The quarry ice was gone earlier and the spring sun helped to increase the water temperature to almost an acceptable level..
Dan WilliamsHey Llew Lloyd being from the better side of town we had our own quarry, Dibley's, to swim in. It was however not used much in my time except for rafts. In my brothers day it definitley was a swimming hole with great places to dive from. I can also remember picnicing there with my family
Ted HurdisRay Paquette swam there many times freaking out when the crawfish would nibble your toes
Margaret GreerDon't forget Saturday afternoons at the Movie Theatre. For 25 cents !The cowboys always won and we would all would cheer. read Memories of Carleton Place — The Roxy and Marilyn Monroe
Ray PaquetteLlew Lloyd Or a comic book at Mac William's on the way home…. read Before and After in Carleton Place — Mac Williams and The Good Food Co
Jill SeymourRay Paquette does anyone else remember the unique smell of William's store. I loved it and every time someone mentions the store in these posts I get it back
Marilyn WhiteFree swim lessons in the morning and playing there until supper. The life guards were your friend. Playing in Treasure Valley. Boys and girls playing together. It was the " best of times"! read Looking Deeper at Treasure Valley in Carleton Place
Diane Lackey JohnsonVery well written, Sherene. Things were sure different back then. Too bad kids today don't have the same experiences.
Nancy HudsonYour posting certainly sounds like the Carleton Place I grew up in way back in the 50's. Lived at the park in the summer and the rink in the winter.
Memories of Carleton Place — The Roxy and Marilyn Monroe
As Time Goes By — The Old Post Office Clock
Coffee Talk– Coolidge's Penny Candy and Rochester Street– For Tom Edwards
Pour Some Sugar on Me! The Demise of the Penny Candy
Before and After in Carleton Place — Mac Williams and The Good Food Co
Looking Deeper at Treasure Valley in Carleton Place