The following clauses of the old civic bylaws in 1875 "to preserve order and public morals in our towns".
In 1890 when the civic bylaws were codified and consolidated– now it makes for humorous reading in these more or less civilized days.
"No person shall keep or use in the village, pit, ground or other place for running baiting or fighting any bull, bear, dog, cock or other animal, whether of domestic or wild nature, etc."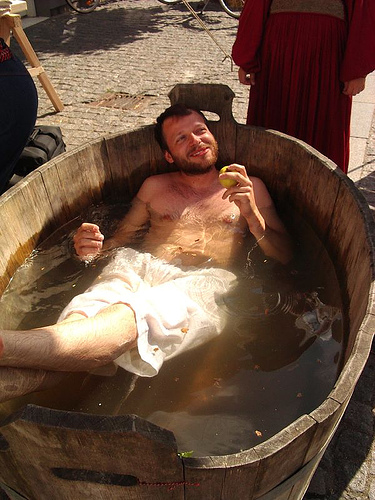 "No person shall wash or bathe his or her naked person in any public water in Lanark County."
"No person shall suffer or permit to run at large within the village limits, any wolf, bear or other wild animal, of which he or she, is the owner, possessor, harborer or caretaker."
"No person shall shout or call out (improperly) 'Fire' In a loud voice."
"No person shall obstruct passengers by standing across any of the sidewalks, footpaths or crossings, or by using insulting language thereon."
"No person shall permit any horse, mule, ass, sheep, swine, or goat belonging to him … to run at large in the said city, or to permit surh …. to graze in along or upon any street lane, sidewalk, boulevard, park, square, or public ground within the said village."
A year ago we wanted to run some sheep down Bridge Street in Carleton Place- someone said it was still on the bylaw books– we never found it.
Run Pig Run–Shake it Off! Convictions of 1870