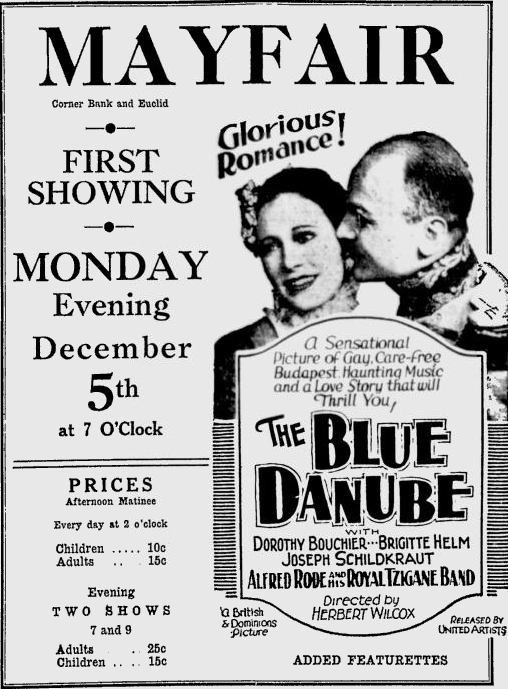 December 5, 1932 marked the debut of the Mayfair on the Ottawa entertainment scene. The previous June, Fred Robertson, the son of an Almonte general store keeper, had persuaded his father that establishing a theatre in Ottawa was a good idea. So father and son set to work and completed construction of the Mayfair complex the smoke shop, restaurant and barber shop adjoining the theatre belong to it in the relatively short span of six months.
It opened at 7 o'clock on a Monday night. A newspaper report of the time commented: "For the premier opening the management were fortunate in being able to obtain the grand and glorious romance, 'The Blue Danube.' "Music that reaches the heart, gay abandoned rhythms that make your feet twitch in sympathy are featured in this love story you will all remember. "This picture, with Joseph Schildkraut heading the cast, will be shown on this screen for three days, Monday, Tuesday and Wednesday. Independent "For the end of the week, the management have been successful in securing that great African thriller, 'Bring 'Em Back Alive." Since that day, when it "slipped quietly and ostentatiously into the entertainment life of this city," the Mayfair has remained an independent theatre, owned and operated by the same Fred Robertson.
The theatre, with its 600-plus seating capacity, now specializes in screening double bill attractions featuring second run movies. For a patron it means a choice between seeing a recently released movie in a downtown chain theatre at an average cost of $2.50 per adult, or waiting to see two movies, each perhaps a year old, at the Mayfair for the cost of $1.75 per adult.