Many many years ago a Carleton Place child named Annie stuck a Plaster of Paris mouse on teacher Miss Sinclair's skirt. There was quite a commotion when one of the pupils said:
"There's a mouse on your dress Miss Sinclair!"
Off to the one of the local stores did Miss Sinclair go just to make sure a live one did not enter the classroom. In the Carleton Place Herald it was reported that the two-room mouse trap had quite a run for a few years. When tripped,Mr. Mousie was choked to death.
Have you ever heard of the Delusion Mouse Trap? Did you know the Lanark & District Museum actually has one? They sold for 20 cents or in some stores 30 cents.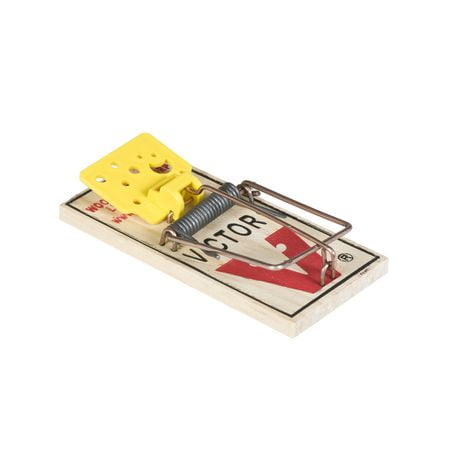 Well things have changed and Vektor decided "to get jiggy with it" and made a new mouse trap. Notice the difference between the one above  the one below. My eldest son, Skyler who likes to be on the cutting edge of things, even mousetraps, sent me a text the other night that said,
"I just connected my phone to a Victor Smart-Kill mouse trap. Unbelievable– it's the year 2018 I tell you!
Author's note: How come every thing is smart this, and smart that;  and I am still not smart after using them.
With the Victor Smart-Kill  you can receive kill alerts on your mobile device – 100% kill rate —Monitor traps from anywhere via the user-friendly app–Indoor use only–Built-in safety switch helps to protect children and pets–Requires 4 AA batteries (not included) (author's note– of course not!)
As my son Skyler said: "I could be in Singapore and still have a handle on what's going on inside my Viktor mouse trap!"
I had no idea at that point that it was connected to the phone and asked my son where he purchased them as his grandmother would appreciate these, maybe. He sent back as a deadpan as a text you can get and asked,
"She has a mobile device?"
His Grandmother is 90 and still has the grandparents of all phones, so alas, this would not help her. There would be no electronic notices coming across that baby she still owns next to her collection of annual telephone directories.
Sky texts back,
"I would hate to be a mouse roaming the interior of my kitchen tonight as there are 4 traps which surround the perimeter. Too bad they don't have a bigger size for those raccoons of yours Mum."
We discuss for the next 4 texts which is better- peanut butter or cheese. I wouldn't rate peanut butter as the most effective mousetrap bait, but it ranks high on the list of things I've used for a couple reasons. It's cheap, ready to hand, and has a pervasive scent, aided by its high fat content, which gives it staying power.
However, peanut butter has one drawback as mousetrap bait. It's just too easy for a careful mouse to clean off the trap trigger without setting off the trap. While I've caught dozens of mice with Peanut Butter baited traps, more often I've found meticulously cleaned traps still set, and just a couple mouse poops to show who did the cleaning– not that I could really figure out who pooped on the trap.
At 11 PM, son number 1 texts me to tell me all is silent on all fronts.
And so the saga began– which mouse trap was going to come out victorious?
The next morning he texts that indeed two mice were caught overnight but unfortunately the $2.99 trap caught them and not the 40 dollar one.
In his exact words it was:
"These guys got it from the old fashioned ones- the super trap caught zip all!"
Please note that both mice were named by my Grandaughter Tenley so they could be buried with respect.
RIP Polly and Karl!
Everyone was manning the electronic devices waiting for the next kill that night. The next day I received a text that the "Viktor Cost a lot of Money Trap" had caught something and as Sky said,
"It had better be dead when I go down there!"
Tenley named this guy Frank, and unfortunately I think he was just toying with Sky and avoiding the old trap. To his demise Frank decided to go for the brand new spanking new one. Frank bit the biscuit electronically, and by the looks of it (stunned) he went fast and clean.  One complaint is that sometimes the mouse trap says it has more kills than it really does — but isn't that like every other fish story you hear at Tim Horton's?
The Mousetrap
In 1876 Nebraskan John Morris patented the first design for a multi-catch mouse trap that enjoyed great commercial success. Its most innovative feature, widely copied, was a hinged outer door that allowed the trap to function repeatedly before it was emptied.
Basically, the trap that John Morris first developed (fig. 1) consisted of a narrow tunnel, which was shown with a door at each end (though one door only was also an option indicated in the patent description), and which on its side had an animal-holding chamber entered from the center of the tunnel through a one-way door with an overhead hinge. The most important and innovative feature of the trap, which set it apart from all earlier mouse trap designs, was the unique nature of the outer door and the mechanism that closed and reopened it. Each outer door was hinged at its base and opened so as to lie flat along the floor of the tunnel. Beneath the open door lay one end of a seesaw that was pivoted close to the trap entrance, the other end extending into the tunnel and well beyond the end of the horizontal open door. A mouse entering the trap trod first onto the door and then onto the far end of the seesaw. This last move caused the inner end of the seesaw to descend, while the other end was raised and flipped up the door to close the trap. If the mouse then attempted to return, it found itself trapped below the slanting closed door. On the other hand it could step off the end of the seesaw and allow the door to reopen, thereby resetting the trap.