I remember grocery stores giving gold bond stamps for loyalty. As a kid I spent many hours filling collector books for my grandmother. I'd eagerly lick the stamps until my tongue would get dry and my mouth had an awful taste. I'd also spend hours looking at rewards catalogs to see what we could get. Just when I had it figured out, a new catalogue would arrive in the mail.  I never thought that the store-bought items were probably less expensive in the long run.
A department store in Milwaukee introduced the first trading stamps back in 1891, which were exchanged for goods in the store but in 1896, the Sperry and Hutchinson Company, which began issuing S&H Green Stamps that year, was the first trading stamp company that operated as an independent business, providing stamps to different types of merchants in a community, along with booklets to paste them in, and opening their own stores where merchandise was purchased only in exchange for the company's stamps. Cold, hard cash wasn't accepted at the stores known as "redemption centres."
As Peter Low said: Above is the predecessor of Air Miles, Petro Points, PC Optimum, Scene Points, etc.
There were questions as to whether stamps were an advantage to consumers or took advantage of consumers. The battles raged from the earliest days but ultimately it would not be politics or lobbying that would bring down the industry but the unforeseen turbulence of a changing economy. One thing was for sure, though, the trading stamp will always be remembered.
Are the new cards any different?:) What are your thoughts?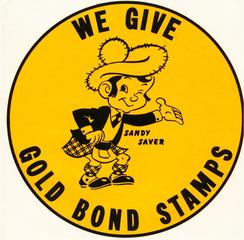 COMMENTS
Gail Grabe Saved them for a wooden salad bowl set, some '60's style wall plaques, can still taste the glue from putting them in the books!
Linda Gallipeau-Johnston My Mom collected them and I collected them too – high chair, bottle warmer, bottle sterilizer. They came in pretty handy!
Kevin Kennedy IGA had them corner of bridge and franklin in Carleton Place
Jennifer Frances Oh my!!!! What a blast from my grammas past! She loved those books!
Peter Bradley I remember the funeral home just up from the Mississippi Hotel had a sign in the window saying "We give Gold Bond Stamps" They sold furniture as well and I wondered if you got them for coffins too?
Mary Ann Gagnon As the oldest, I was in charge of licking those stamps and putting them in the books for mum. I will never forget the taste (awful!), but the joy of being that much closer to the chosen item made it all worthwhile!
Dilys Anne Hagerman My mother got my first special breadspread through those stamps!
Lynda Burger My mom got a set of dishes using them.
Judy Riley I got my first good pots through Gold Bond after leaving home. Stainless steel, triple bottom
Donna Timmins I worked as a teenager in IGA, Almonte, so gave customers their gold bond stamps. Also saved & glued them into books for mom.
Judy Riley Pretty sure many christmas presents were only bought compliments of gold bond stamps in our house. Not mine because I got books and clothes but my younger sibs.
Nancy Moore My sister Kathy got her first pair of skis with these stamps! She is an excellent skier!!!
Linda Nilson-Rogers My mother used to try to get me to lick the bloody things…
Karen Wiles Cleland I still use the 20 cup coffee perc my Mom got with Gold Bond Stamps, maybe mid sixties? Definitely got our money's worth!
Donald Scott I remember these my parents got a bedroom set from IGA WITH THESE BACK IN THE 70'S
Sandra Elwood Oh gosh, yes, I remember these and Pinky Stamps, too!!! A predecessor to the Points cards of today.
Arlene Savard My Mom bought my 1st tennis racket with Gold Bond Stamps, loved it.
James Larry Doyle My aunt let me get a tennis racquet with her stamps and I still have it.
Mary Hurdis I saved them and got sheets and pots and pans I still have
Mary Anne Harrison I still have and use the carving set my Granny O'Keefe bought with her gold bond stamps from the IGA.
Cathy Paterson I remember $2 for a book also saved up and got our dad an extension ladder for his birthday
Catherine Cochran My mom bought me my first set of silverware by saving her gold bond stamps
Sandra Houston I remember the Gold Bond books used to fill them with stamps for my Nanny and take them to the IGA
Michael Sandy Herb McDonald My first football helmet I owned was a present from my Grandmother who saved books of these stamps.
Pat Lipton it was my job the stick them in the books!!!
Sherene Baird Flint Definitely remember licking the stamps and then going to West Gate mall to cash them in for something in the catalog!!
Judy Reid Hamre We kids fought so much that one of the first things Dad used the stamps for was boxing gloves – true!