Gerry and Noreen (Regan) Tyers. April 29, 1961 At the Church we were married. Trinity Anglican , on Cameron and Bank Streets in Ottawa. Photo Noreen Tyers
                               My Wedding Tiara
My beautiful little tiara I wore on my wedding day
Was used by my daughter, when as a child a princess she did play.
I'd retrieved this little tiara and placed it back on the shelf
Then one day when I was cleaning, there it was again all by itself.
So once again I retrieved it and wrapped it in a cloth to be put away
Now this time, I hid it oh so carefully and there in the hat box it seemed to stay.
When my daughter decided to marry she thought again of this little tiara so fair
Teri (Tyers) and Blair White Wedding Oct 9/99 Camp Merrywood on the Rideau
She felt once again like a princess and included it in her own wedding plans with care.
Apart came my little tiara with it's shiny beads all askew
Don't worry she said for in jig time it will appear once again just like new.
Some pearls were added to the stones of this beautiful little tiara to be worn on her Wedding day
Once again it was used by my precious loving daughter at her very own special time we pray.
How important it is to keep treasures and collect your own special thoughts
For you know my dear wonderful memories like this just never can be bought.
These tiny beads are now left over from your very own beautiful Wedding head piece.
Put them away in a safe place for some day a daughter may use them with her very own wedding fleece.
February 2001 From the Pen of Noreen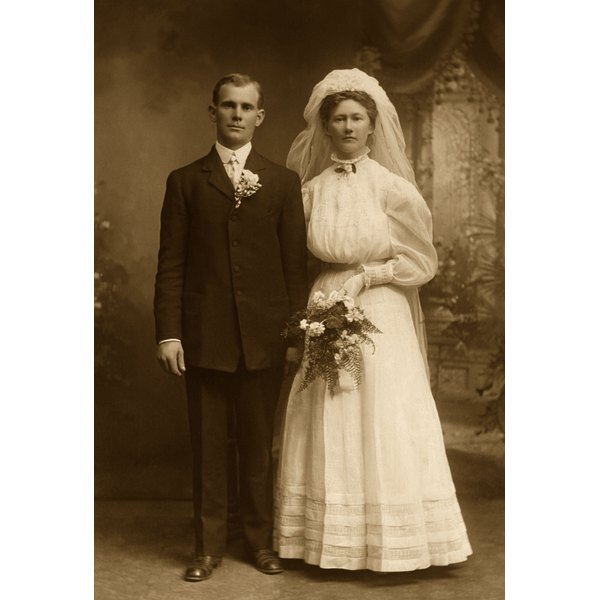 Some more wedding Trivia from my collection of Wedding Trivia
Garters originated in the 17th century as silk sashes tied below the bride's knee, which were removed by the groomsmen and worn in their hats. Other garters might be fancifully decorated with blue ribbon symbolizing constancy. They would be part of a bride's trousseau filled with such a frothery assortment of lingerie and linen, perhaps embroidered and sewn by her own hand, to be taken to her new home.
Why does the bride carry a handkerchief? Not all brides do, but if you choose to, it will be a lucky sign. Early farmers thought a bride's wedding-day tears were lucky and brought rain for their crops.–With Love ❦ Handcrafted by Noreen
In days gone by the Bridal Hankie was put away after the wedding day to be turned into a Christening bonnet for the first born Child
❧❦❧ A Bridal Hankie
A little hankie I edged for you In each stitch I planted a few
A wish for happiness, a wish for health
Please don't forget to look after your wealth
This hankie may be used when sad and maybe a little blue
But most of all I want happy tears and keep the sad ones few
Carry this hankie on your wedding day
Then put it away and take it out on a joyful Christening day
With Love ❦ Handcrafted by Noreen
Come and visit the Lanark County Genealogical Society Facebook page– what's there? Cool old photos–and lots of things interesting to read. Also check out The Tales of Carleton Place and The Tales of Almonte
Information where you can buy all Linda Seccaspina's books-You can also read Linda in The Townships Sun andScreamin' Mamas (USA)

The Art of Learning How to Butter Your Toast the Right Way — From the Pen of Noreen Tyers of Perth