Donna and Brenda Manson from Lanark County
In the 1800s a dog powered device was invented. A dog would walk on a treadmill that ran an appliance like a washing machine or a butter churner.
THE FELDT DOG-ENGINE: 1888

he Real Cynosphere: 1875
THE POOCHMOBILE: USA
Line drawing from patent office 1882 of dog power machine
A small animal power for use with a dog, sheep or goat. The 10 3/4″ wide wood treads ride on 10″ end pulleys and 2 sets of four 8″ diameter rollers. The rear of the track frame can be easily raised or lowered by means of a lever operating a ratchet mechanism. The angle of the track is adjusted for the weight of the animal and the work required. The power available from a treadmill is dependent on the weight of the animal and the angle of the tread, not on the strength of the animal. The dog simply climbs the tread to maintain his position and gravity does the work. A hand lever actuates a brake to stop the machine when the dog is getting on or off. The iron brake pad rubs on the face of the 25″ iron flywheel. An 89″ long walking beam pivots on the upright frame member and is attached to a 43″ long connecting bar, the opposite end of which connects to a slot in a flywheel spoke. This flywheel connection allows continuous adjustment of the crank radius and thus the degree of movement of the walking beam. The opposite end of the connecting bar has a series of 6 holes for adjustment of the height of the walking beam end. This attachment was used primarily for working dasher churns and pumps. The connecting bar could be connected directly to a rocking churn such as the popular Davis swing churn offered by Vermont Farm Machine Co. Other devices such as barrel churns, early washing machines, cream separators, and even lathes and light duty woodworking machines could be powered directly off a belt pulley on the front shaft.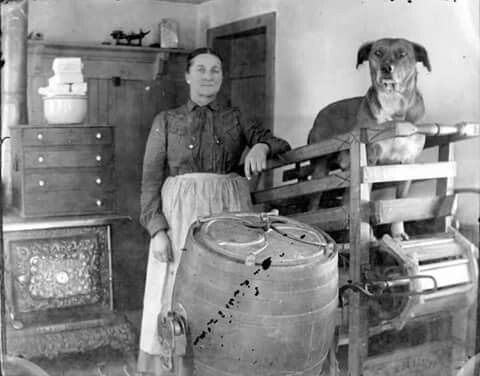 Photos from the  Canadian Files from the Carleton Place and Beckwith Heritage Museum
Clipped from
Middleville photo by Kelly Pretty
Friday October the 13th– 6:30.. meet in front of the old Leland Hotel on Bridge Street (Scott Reid's office) and enjoy a one hour Bridge Street walk with stories of murder mayhem and Believe it or Not!!. Some tales might not be appropriate for young ears. FREE!–
Here we go Carleton Place– Mark Your Calendars–
Friday October the 13th– 6:30.. meet in front of the old Leland Hotel on Bridge Street (Scott Reid's office) and enjoy a one hour Bridge Street walk with stories of murder mayhem and Believe it or Not!!. Some tales might not be appropriate for young ears. FREE!–
Join us and learn about the history under your feet! This year's St. James Cemetery Walk will take place Thursday October 19th and october 21– Museum Curator Jennfer Irwin will lead you through the gravestones and introduce you to some of our most memorable lost souls!
Be ready for a few surprises along the way….
This walk takes place in the dark on uneven ground. Please wear proper footwear and bring a small flashlight if you like.
Tickets available at the Museum, 267 Edmund Street. Two dates!!!
https://www.facebook.com/events/1211329495678960/
OCT 28th
Downtown Carleton Place Halloween Trick or Treat Day–https://www.facebook.com/events/489742168060479/