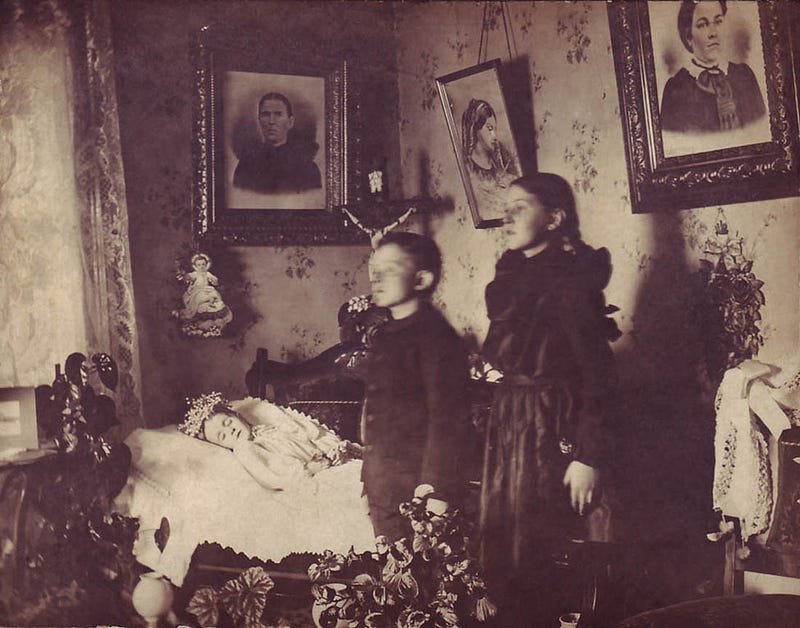 In the Victorian era families often took photos of dead loved ones posed to look alive, sometimes next to them and/or standing thanks to the use of support stands and straps. Variants include the painting of eyelids to appear open, hidden mothers holding dead children, the dead made to appear to stand. The post mortem photograph is a relic of a past that has been erased by modernity, and in that lost world, people had more direct and less mediated experiences with body fluids and less mediated (less medicated) experiences of death, with a lot more suffering."
Photographers often tried to create portraits of the dead and the images to represent who they were alive, not dead, and so tried to make them appear alive. Some, especially children, were made to appear to be sleeping. Others were sat up, sometimes with eyes open. Some feature parents cradling their infant. During most of the Victorian period, photographs were not so prohibitively expensive that most people could only afford them once in a lifetime.
As a specialty item, a postmortem photograph was more expensive than an ordinary portrait. In part, this had to do with the unusual requirements of its making, as the photographer had to come to the subject rather than the other way around. However, this by itself could not have justified the high price of a postmortem picture. Photographers would charge extraordinary fees for a product which was desired with extraordinary fervour by their customers. Whatever the reason for the high fees, the commissioning of a postmortem photograph often involved an economic sacrifice.
The Ashford Zone blog said that you can tell death by blurred eyes and the visibility of a posing stand.  Some still argue against the idea that photographers  did not accomplish this with a small stand, but the exception sometimes proves the rule. The dead were sometimes made to stand and to look alive and conscious. However, this was done by forensic photographers, not memorial portrait makers.
If you look closely you can see a base behind the girls feet in the photo above and a post would go up from that with clamps at the waist and neck and the clothing would be open at the back. The arms would have stiff wires running at the back to hold them in place. Also notice the strange placement of the hands. The pupils are painted on the closed eyelids.
The fact is, postmortem photographs like this were taken more than any other kind of photograph in the Victorian era –and in many cases these carefully arranged, meticulously staged pictures were the only ones ever taken of their subjects.
Come and visit the Lanark County Genealogical Society Facebook page– what's there? Cool old photos–and lots of things interesting to read. Also check out The Tales of Carleton Place.
Information where you can buy all Linda Seccaspina's books-You can also read Linda in The Townships Sun andScreamin' Mamas (US