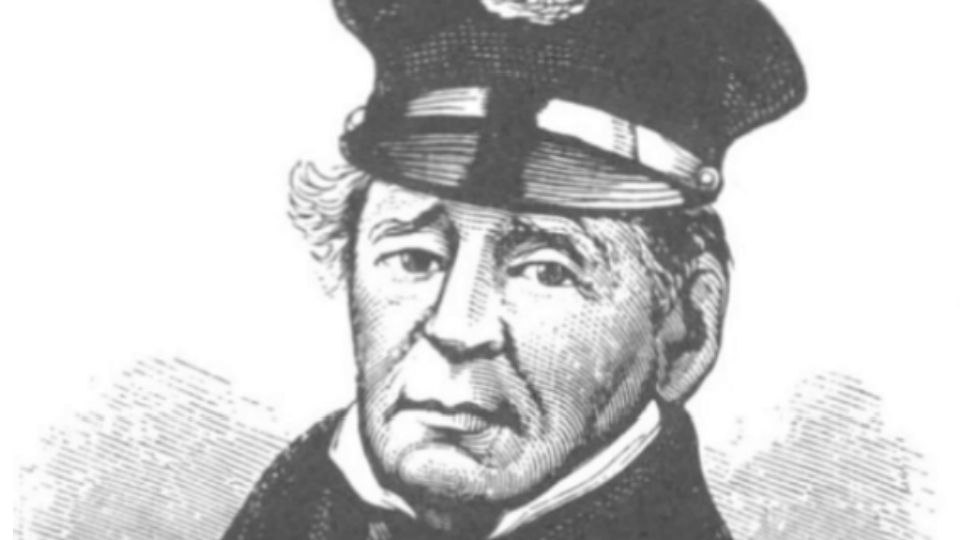 Today's theme is pirates and bad guys. Two from the 1000 Island region and one who might have slept here. I just thought they all kind of tied in together—and it felt like a pirate sort of day.
When I was younger I lived by the words of books. I was sometimes Nancy Drew or Trixie Belden but really I longed to be a pirate. Not just a "walk the plank" "swab the deck" sort of gal. I wanted to be married to a bad boy wearing skull and crossbones with a big pirate ship.
Last week I had the pleasure of seeing where big bad Bill Johnston, pirate at large, lived among the Thousands Islands in the St. Lawrence Seaway. You may not know him from Captain Hook but this man was worthy of a jaunt into a Harlequin romance.
Bill was a Thousand Island smuggler running spirits and tea. You can see with his preference of illegal goods he was a bad boy but with a romantic side to him. He was also an 1812 American privateer and was the man the British most wanted to hang. They spent a fortune trying to hunt him down for years.
Bill Johnston spent his first 30 years as a loyal British subject and had been born to British Loyalist parents. I ask you what is more romantic than a man with a British accent with an occasional "Argh" in his vocabulary. He bought his first schooner, carried both legitimate and illegal cargo and made enough money to buy a small store in Kingston, Ontario.
Sadly I was not around in those days and he married a young American girl named Anne Randolph. Anne was left down on the farm to raise the children when the War of 1812 began and Bill went after the British when they confiscated all his property. He vowed undying revenge on the British and pledged himself to the American commander of a US fleet in Lake Ontario.
For two years Bill went after the British in fast light rowboat called a gig and were able to slip in and out of those narrow channels like greased lightening. He spied on the British, attacked their supply boats, robbed mail couriers, burned ships, and participated in battles at Sackets Harbor, New York, and Crysler's Farm, Upper Canada.
After the war he established a waterfront shop and continued smuggling tea and rum to Canada. Ironically, the US revenue service paid him to spy on Canadian smugglers coming into the US.
In 1837 he joined a bunch of American sympathizers and Canadian refugees known as the Patriots that Mel Gibson was most definitely not part of. Then he set out to capture the passenger steamer the Sir Robert Peel and eventually burned it down. Johnston surrendered to US authorities shortly after the Battle of the Windmill as he claimed he was tired of running. Bill faced numerous charges for his rebel activities and the Peel raid and in most cases, juries refused to convict him. When he was jailed, he escaped when the mood struck him and the authorities ultimately declared him more trouble than he was worth.
On the 12th of April 1953, Johnston was appointed Rock Island Lighthouse Keeper and was eventually pardoned by President Harrison. After receiving the pardon, he was given a commission on Rock Island and the very government that had put a price of $500 on his head, was now paying him $350 a year as keeper of a lighthouse—in plain sight of the watery grave of his infamous spoil, the Sir Robert Peel.
Bill Johnston the Pirate of the St. Lawrence Seaway did not die in a violent way as some might have thought. In reality he slipped on the dock and met his maker by hitting his head. Some days you can hear a snarl fill the air above the water of the St.Lawrence Seaway and hear the words of the immortal Bill Johnston,
"Aye, mateys," he hollers at local pleasure boaters, "them whar' the days!"
Buy Linda Secaspina's Books— Flashbacks of Little Miss Flash Cadilac– Tilting the Kilt-Vintage Whispers of Carleton Place and 4 others on Amazon or Amazon Canada or Wisteria at 62 Bridge Street in Carleton Place
Images and text by Linda Seccaspina